New Business Year, New Business Lighting?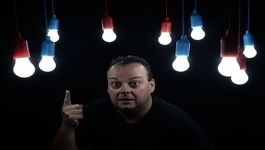 The end of the business year is here, and so people have to make sure that they are ready for the start of a new chapter in their business. For better or for worse, we have to keep going, and it makes all the difference for people to be able to save a little money here and there.
To try and achieve this, a lot of people choose to work with LED lighting. There's a couple of different reasons why it would be a good bet for your business, and we're going to be examining those reasons here and now.
What Does an LED do?
Now, if you don't know exactly what the LED does and why it's so useful, you're going to struggle when it comes to an understanding of why it's a good investment for your business.
The LED bulb is one which is thought of as the direct successor to the filament bulb - the next generation of lighting. It has a lot to offer a business, and you can tell that thanks to the many different benefits. A long lifespan, exceptional brightness and a variety of different shades and colours of light mean that they can fit into almost any commercial building. It's a beautiful way to keep your building well lit, and without any issues at all.
How Does This Translate To Your Business?
So, one of the first things that you need to ask yourself is how this translates to your business and why it's a good idea. Well obviously, we're going to be taking a look at the practical applications of such a light source and how it'll impact you.
One of the first things to think about is the light level and how it affects your employees and your customers. They don't want to have to struggle with lighting which is poor, because it can cause headaches and pains which can either lower productivity or just put people off going into the store altogether. The best choices are those which offer good lighting, at a suitable light level and shade.
Furthermore, you need to consider the cost effectively when trying to provide lighting to the whole building. An LED bulb, with it's more considerable lifespan, is a good investment because it means that you do not have to worry about whether or not you're going to have to replace the bulbs every few months - instead, an LED can last for years.
Overall, these are just some of the different things that you need to take into consideration when it comes to getting the absolute most from your buildings and your experiences with LED's. There's no doubt that they can be great resources for people to work with, and you have to be ready to try and utilise the best possible resources to succeed as a business. There's so many benefits to an LED that you would be crazy to go without them, and many businesses have seen that for the new year, there is no greater tool.