Lighting Up Your Commercial Premises - Tips and Tricks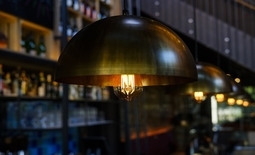 Providing light to commercial premises can be a real challenge sometimes. All companies face the constant struggle of trying to provide the most functional space for the cheapest cost, and they often consider many different ways to accomplish this.
LED lighting is often the way that a lot of companies choose to do this. And with the ban on halogen bulbs howling at the metaphorical back door, there's no better time to start using LED bulbs. We've collected a few different tips and tricks over the years, so let's take a look at how you can adequately light up your commercial premises using LED bulbs.
Try To Have A Constant Light Level
When you are looking for the best way to light up your commercial premises, you have to consider how constant your light levels actually are. A constant level of light in the entire retail space is by far and away the best possible choice. Too much light in one area can really make a contrast when it comes to other areas, so you need to make sure that there's a good level of light everywhere.
Keep The Light As Natural As Possible
When choosing LED's for your commercial property, you need to make sure that you're choosing the most natural form of light possible. This will help the contrast between the sun and the outside world to be as slim as possible. You want to make sure that your property has a good level of natural light, and this can be achieved by making sure that you're doing your best to make your LED's closely match this.
Don't Overflow The Lights
When dealing with LED's, the urge can sometimes be to use more and more of these great bulbs. After all, they're bright and long-lasting, so why not? However, this isn't going to help you when it comes to trying to create a suitable workspace. After all, too much light can affect the working ability of your staff, giving them headaches and other conditions which can be very distracting and often disconcerting. Therefore, you need to make sure that you're not using too much in the way of lighting, and that you have a reasonable amount of bulbs in place.
Overall, these are just a few of the different things that you can do to make sure that you can light up your commercial property properly. It isn't necessarily easy to make sure that you're getting the right level of light into your commercial property so you can get the maximum level of efficiency for your workers. Having the right kind of LED bulbs can be absolutely integral to making sure that you have the best level of productivity in the workplace. Lighting can make a massive difference to the workplace because we're so sensitive to light. Poor light quality can dramatically alter the performance of your workers because headaches and migraines are common. This isn't something that you want to happen, which is why it's so important to use your LED lighting in the best possible way.